CPC ENGINEERING has been involved in control systems related activities for decades. In the past, it has implemented controls, mainly compressor controls such as Anti-Surge Controls and Surge Detectors inside Protronic PS and Protronic PS2 controllers (initially branded Hartmann & Braun, H&B, and then later ABB).
Given the critical aspects of the systems they protect amongst other reasons, some operators have not had the opportunity to upgrade this equipment, running for some of them for decades. However, although being reliable, they are not eternal and eventually fail. When the last spare controller is installed, operations usually think it is the right time to upgrade.
In some instances, a late reaction may lead to running out of controllers, and require an urgent solution.
In CPC we have a vast experience in the upgrade and migration of the following controllers:
H&B Protronic PS2(initially branded Hartmann & Braun Protronic)
Protronic PS controller
Protronic PS2 controller
ABB Protronic PS2
ABB Protronic P500
ABB Protronic P700
ABB Digitric D500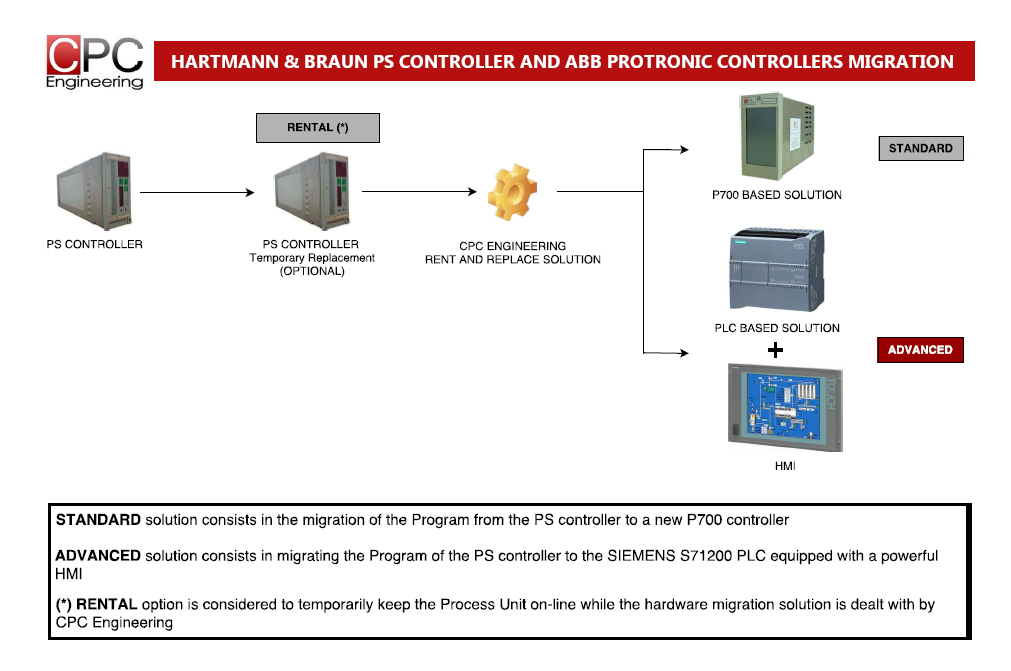 CPC ENGINEERING can provide a very dynamic response to the operational constraints through its unique "rent and replace" solution described below, by providing a temporary solution, in the meantime of the overall replacement cycle time:
Phase 1 - in order to allow start-up and operation of the equipment, an identical Protronic PS or PS2 controller may be provided by CPC Engineering as part of the upgrade project
Phase 2 - Proposal of solution for control systems replacement
Phase 3 - Design of new solution
Phase 4 - Implementation and testing
Phase 5 - Live Decommissioning of Protronic PS or Protronic PS2 controller and commissioning of new solution without equipment shutdown
As ever, CPC ENGINEERING thrives in providing added value through the full project by reducing the equipment and plant downtime, thereby reducing the overall cost of ownership of such projects.